Master's programme
European Management (M.A.)
Master's programme in International Business with a focus on the European business environment.
All courses are given in English.
German website
| | |
| --- | --- |
| Degree | Master of Arts |
| Language of instruction | English |
| Modes of study | full-time, half-time |
| Standard duration | 4 semester (full-time), 7 semester (half-time) |
| Programme start | winter semester |
| Credit Points/ECTS | 120 Credit Points/ECTS |
| Fees | no tuition fees (the university only charges semester fees each semester), (details) |
| Application deadlines | |
| Faculty | |
The two-year Master's programme in European Management provides expert knowledge in international management with a European perspective. The programme can be fully completed in English language and is thus a perfect choice for international students interested in getting started in Germany or Europe as well as for German or European students preparing for an international career.
Programme structureOpen areaClose area
During three semesters of courses, students will acquire expert management skills in different core areas of international management:
Finance
Marketing
Human Resources
Accounting
In addition students will have the possibility to gain first-hand professional business experience in an international business project, get a European perspective on economic and public policy and on international management, acquire skills in project management and negoatiating, and have a chance to improve on an additional language (German, French, Spanish). In the fourth and final semester students write a Master's thesis on a topic of their own choice.
As part of the European Management Master's programme to study abroad with one of our partner universities and/or obtain a double degree (France - Lille 1 University or Spain - University of Cordoba).
All courses are taught in small groups, consisting of interactive onsite sessions enriched by multimedia content and exercises provided in an e-learning environment. Students have 24/7 access to the library.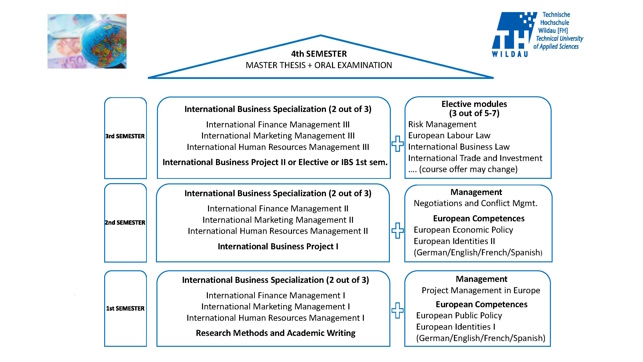 Admission requirements and applicationOpen areaClose area
General admission requirements
A first qualification at higher education level that qualifies for entry to a profession with an economics or business-related/management-related orientation.
Specific Admission Requirements
1) Certification of an internship abroad or international working experience of at least eight weeks. The degree programme director decides on its recognition.
2) Language requirement
Prove of language proficiency of at least C1 level of the Common European Framework of Reference for Languages (CEFR) - not more than two years old.

Or completion bachelor's of a bachelor's degree programme which was completely taught in English (100%) and which qualifies for the European Management Master's degree programme.

Or graduation from a bachelor's degree programme which qualifies for the European Management Master's programme and which had English language skills of at least B2 level (CEFR) as entry requirement. In addition you must prove that you have successfully completed modules in the scope of at least 40 ECTS that were fully (100%) taught in English.
3) motivation letter
Submission of a motivation letter (min 2, max 3 pages) declaring your motivation for or the identification with the European Management Master's programme.
Please check the following links for more details:
Application deadline and process
en.th-wildau.de/study/application/degree-programmes/application-deadline-and-process/
Applying with foreign school / university degree certificates
via Uni- Assist
www.uni-assist.de/en/tools/check-university-admission/
Applying with a German university admission qualification / German degree
en.th-wildau.de/study/application/degree-programmes/online-application/
Applying as an exchange students (Erasmus+ etc.)
Alumni's PerspectivesOpen areaClose area
Sara Canales
El Salvado
One of the aspects I like the most about the European Management degree is that students have the possibility to put the theory into practice by working with companies through different projects. Not only does this give a real life feeling and experience but it also helps to discover and develop skills that are essential for a future professional life.
Although my main subject was marketing, I also had the possibility to gain knowledge in financial topics which enabled me to develop and strengthen my analysis skills and contemplate different situation from a broader perspective.
Moreover, through this study course I learned better how to work in an international environment with people from different backgrounds and cultures - which I really enjoyed!
Anvar Beishembi
Kazakhstan
The European Management Master Program is a good combination of practical knowledge, such as real projects with companies and other universities, as well as theoretical knowledge. Courses given in this Program are targeted to meet today's labour market demand. Students have a great opportunity to have general as well as in-depth knowledge in such fields as Marketing, Accounting, Finance, Human Resources, Risk Management, Project Management and Decision Making. Another distinctive feature of this program is that it is truly international: in the same class you will work together with students from Europe, Africa, Russia, South America and Asia.
More pratical information see below - Alumni Experience / Career
Career opportunitiesOpen areaClose area
Senior management positions especially in the areas of:
Human Resources
Marketing
Accounting & Controlling
Finance
Strategic Management
The Master's degree qualifies for senior civil service positions Double degree with University of Lille (France) or University of Córdoba (Spain) possible.
Offers and further information