Windsurfing
Make use of the wind in your sail and glide over the water...
No prior knowledge is required for the beginner courses. Windsurfing is effortlessly learned (starting, steering, turning, sailing on different courses).
The internationally valid basic certificate issued by the VDWS completes this course (€15).
All surfing equipment incl. wetsuits will be provided.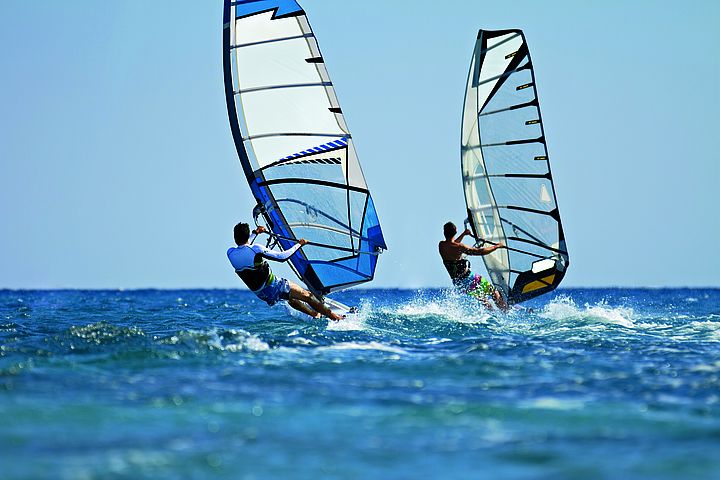 Notes:
Please bring surf shoes (canvas sneakers) and swim "slippers" with you
Swimming ability is a prerequisite for the participation
Please bring some food and Drinks for the lunch
| Kurs | Tag | Zeit | Zeitraum | Ort | Kursleiter | Preis | Anmeldung |
| --- | --- | --- | --- | --- | --- | --- | --- |
| Windsurf Basic course 1 | Fr.-Su. | 9:30-16:00 | 05.05.-07.05.23 | | Jens Tiedjen | 96/126/174/- Euro | |
| Windsurf Basic course 2 | Fr.-Su. | 9:30-16:00 | 12.05.-14.05.23 | | Jens Tiedjen | 96/126/174/- Euro | |
| Windsurf Basic course 3 | Fr.-Su. | 9:30-16:00 | 02.06.-04.06.23 | | Jens Tiedjen | 96/126/174/- Euro | |
| Windsurf Basic course 4 | Fr.-Su | 9:30-16:00 | 16.06.-18.06.23 | | Jens Tiedjen | 96/126/174/- Euro | |
| Windsurf Basic course 5 | Sa.-Mo. | 9:30-16:00 | 08.07.-10.07.23 | | Jens Tiedjen | 96/126/174/- Euro | |
| Windsurf Basic course 6 | Fr.-Su. | 9:30-16:00 | 28.07.-30.07.23 | | Jens Tiedjen | 96/126/174/- Euro | |
| Windsurf Basic course 7 | Fr.-Su. | 9:30-16:00 | 18.08.-20.08.23 | | Jens Tiedjen | 96/126/174/- Euro | |
| Windsurf Basic course 8 | Fr.-Su. | 9:30-16:00 | 25.08.-27.08.23 | | Jens Tiedjen | 96/126/174/- Euro | |
| Windsurf Basic course 9 | Fr.-Su. | 9:30-16:00 | 01.09.-03.09.23 | | Jens Tiedjen | 96/126/174/- Euro | |
| Windsurf Basic course 10 | Fr.-Su. | 9:30-16:00 | 08.09.-10.09.23 | | Jens Tiedjen | 96/126/174/- Euro | |
| Windsurf Basic course 11 | Fr.-Su. | 9:30-16:00 | 22.09.-24.09.23 | | Jens Tiedjen | 96/126/174/- Euro | |
| Windsurf Basic course 12 | Su.-Tue. | 9:30-16:30 | 01.10.-03.10.23 | | Jens Tiedjen | 96/126/174/- Euro | |
| Windsurf Advanced course 1 | Thu.-Fr. | 9:30-16:30 | 18.05./19.05.23 | | Jens Tiedjen | 64/84/116/- Euro | |
| Windsurf Advanced course 2 | Su.-Mo. | 9:30-16:30 | 25.06./26.06.23 | | Jens Tiedjen | 64/84/116/- Euro | |
| Windsurf Advanced course 3 | Sat.-Su. | 9:30-16:30 | 15.07./16.07.23 | | Jens Tiedjen | 64/84/116/- Euro | |
| Windsurf Advanced course 4 | Sat.-Su | 9:30-16:30 | 16.09./17.09.23 | | Jens Tiedjen | 64/84/116/- Euro | |
| Windsurf Advanced course 5 | Fr.-Sat. | 9:30-16:30 | 29.09./30.09.23 | | Jens Tiedjen | 64/84/116/- Euro | |
| Windsurf Advanced course 6 | Sat.-Su. | 9:30-16:30 | 21.10./22.10.23 | | Jens Tiedjen | 64/84/116/- Euro | |