Welcome (Back) @ TH Wildau
Semester Opening Winter Semester 2023/2024
Welcome to the TH Wildau. We wish you a successful start!
German version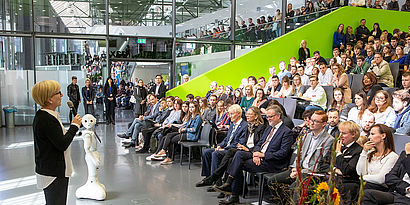 Dear students,
We are pleased that you are starting or continuing your studies at the TH Wildau. Welcome (back) to our beautiful campus!
Lectures for the winter semester start on 25 September 2023.
Get to know your fellow students/your university already on 21. SeptemberOpen areaClose area
On Thursday, 21 September 2023, from 1 p.m., we invite you to get to know the campus, the university, its services and, last but not least, your new fellow students.
We will be waiting for you on the square in front of Hall 17.
The welcome will take place at 1 p.m. The offers will run from 1:30 to 5:30 p.m.
That afternoon we will be giving away our stock of TH shirts. If you find the right size, you are welcome to take a shirt with you.
Besides a cosy get-together, we offer the following interesting offers:
The programme
Opp:Lab
The Opp:Lab - The coworking space for collaboration, creativity and innovation.
Here, interested people can learn, work and network alone or in a group. Rafael will show the Opp:Lab and explain how to work here, which offers could be interesting in the future and what technical possibilities there are. Feel free to drop by!
Vinn:Lab
The ViNN:Lab - the Makerspace for creative ideas
Come to the university's own makerspace and immerse yourself in the fascinating world of digital manufacturing.
Get to know machines such as 3D printers, laser cutters or textile processing equipment in a small hands-on workshop and make your own unique piece. When: 2:30, 3:30, 4:30 p.m. (45 minutes each)
Sport
From 3 to 4 p.m., there will be casual games on the beach volleyball courts. In addition, the university sports department will provide giant jenga, smashball and kubb on the festival lawn.
Library
Library tour - Get to know the university library and its services!
When: 2 p.m., 3 p.m. and 4 p.m. for 30 minutes each with option for subsequent 24/7 briefing (10 minutes) to activate access to the University Library.
Mensa
Before the services start, you can enjoy refreshments in our canteen in Hall 10. It will be open until 3.30 p.m. on 21 September 2023 and will offer sweet and savoury snacks.
Students' Club
From 5:30 p.m., you can round off the day with music and cool drinks in the student club in Hall 19, and maybe even shake a leg.
Please note: For the degree programmes Business Administration distance learning and Industrial Engineering distance learning, the introductions to the degree programmes will take place on Saturday, 23 September 2023 from 8 a.m..
Even though an application/enrolment for the degree programmes for the winter semester 2023/2024 is in principle possible until 30 September 2023, the following applies: The start of lectures is 25 September 2023. Examinations and the content-related knowledge transfer are aligned with the start of lectures.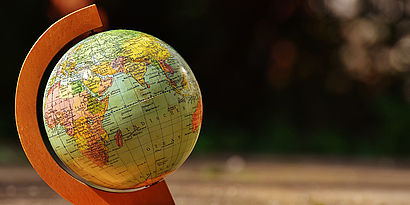 Orientation week for international students from 18 to 22 September 2023
The International Office welcomes all international students to TH Wildau. We are happy that you are here! You are cordially invited to our orientation week, which starts on 18 September at 9:30 in House 16, Room 16-0093/0095. Just come by, we are looking forward to meeting you!
---

How can I prepare for my studies?
On our website in the section "Studying in Wildau A-Z" you will find the most important information and services of our university for the organisation of your studies.
Stay up to date!
You can also find all the important information about your studies and campus life on our Instagram and Facebook accounts.