Welcome (Back) @ TH Wildau
Semester Opening Event
Welcome to the TH Wildau. We wish you a successful start!
German version
Dear students,
We are pleased that you are starting or continuing your studies at TH Wildau. Welcome (back) to our beautiful campus!
The Introduction Days for first-semester students will take place from 12 to 15 September 2022.
The central Semester Opening Event for the winter semester 2022/2023 will take place on Friday, 16 September 2022. Further information will follow soon.
During the introductory week, the teams of the individual degree programmes introduce themselves and give an outlook on the upcoming semester. Afterwards, you can get to know our Wildau campus on guided tours. In addition, our TH Wildau College organises various workshops to prepare you for your studies at the start of the semester.
+++ You will find information about the time and place of events for your degree programme here and in the timetable in the next few weeks. +++
What can you expect at the Semester Opening Event?
Official welcome to the students
Introduction by the dean of the respective faculty
subsequent get-together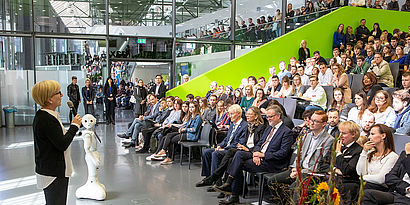 How can I prepare for my studies?
On our website in the section "Studying in Wildau A-Z" you will find the most important information and services of our university for the organisation of your studies.
Stay up to date!
You can also find all the important information about your studies and campus life on our Instagram and Facebook accounts.