The ViNN:Lab (Venture Innovation Lab) at TH Wildau is a makerspace with a wide range of uses providing easy access to innovative Rapid Prototyping technology.
This is being done within the scope of:
teaching & research,
workshops for (school) children in the KiVi:Lab and
Third Mission projects.
The ViNN:Lab is open for anyone with ideas they want to work on.
Open Lab Day / Open to all
| | Weekday | Time |
| --- | --- | --- |
| | Wednesday | 09:00 to 19:00 |
| | Every first Saturday of the month | 09:00 to 16:00 |
Induction training (=required in order to use the lab)
| | Weekday | Time |
| --- | --- | --- |
| | Wednesday | 09:00 and 16:30 |
| | Every first Saturday of the month | 09:00 |
| | | |
ViNN:Lab is a makerspace and part of the worldwide FabLab movement. This movement aims to bring together new technologies into one place and make them usable for creative people - irrespective of their experience and educational background.
The lab provides software for design and development work as well as space for innovation. An interactive smart board, 3D projector, graphic boards and materials for implementing creative methods support the development and presentation of ideas, strategies and innovation processes.
All this means that the lab can be used for creating new products, software or business ideas, and to design furniture or develop structural elements.
ViNN:Lab in teachingOpen areaClose area
The ViNN:Lab has been used for teaching the development of prototypes on the Innovation Management course (Business Administration, Bachelor's) starting from the winter semester 2014/2015.< On this course, students work through an innovation process and learn about methods for developing new ideas and products, amongst other things.
Since the winter semester 2014/2015, students on the Technology Management course (Business Management, Master's) have had the opportunity to work in the lab to develop technology scenarios using a range of different software solutions (e.g. INKA, ScenarioManager).
The Mechanical Engineering degree programme integrates use of the ViNN:Lab for creating vertical prototypes and/or volume models as part of its teaching activities.
The ViNN:Lab is also used in summer schools. These focus heavily on learning and applying creative techniques and methods for evaluating ideas and approaches for visualising concepts.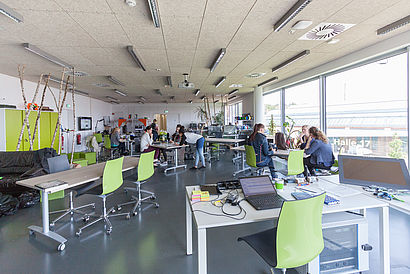 ViNN:Lab for businessOpen areaClose area
ViNN:Lab offers companies the opportunity to professionally work on issues they encounter in their field of business through the systematic development of approaches to problem solving in the creative environment of the lab.
The portfolio of methods is highly diverse. For example, individual scenario-based business models have been devised which can be used to derive strategic actions and measures that can be taken. These are used to get the business being examined into a position to recognise and act upon opportunities and determine possible risks and develop appropriate responses to these.
Download the info brochure [DE, from 04/2016, *.PDF, 4 MB].
For more information, please contact: Prof. Dr. Dana Mietzner - Research Group Director for Innovation and Regional Research and Scientific Director of ViNN:Lab.
ViNNLab for schoolsOpen areaClose area
Our ViNN:Lab team offers a wide and creative range of workshops for school students of all ages.
Students are introduced to the innovative technologies and devices available in our KiVi:Lab. We aim to promote students' individual skills and creativity and let them have fun working on their own ideas. Workshops are adapted to the needs and requirements of the participants. You are welcome to select a workshop from the range of workshops on offer.
We are also open to receiving your own ideas and requests from interested school groups.
For more information, comments and questions, please contact: Eva Ismer – ismer(at)th-wildau.de & Isabel Weidlich – weidlich(at)th-wildau.de) and take a look at the KiVi:Lab page.
3D printerOpen areaClose area
BCN3D Sigma (FDM)
BigRep One (FDM, approx. 1 m³)
BigRep Studio (FDM)
Formlabs Form 2 (SLA)
German RepRap X400 (FDM)
MakerBot 2X / 5 Gen. (FDM)
Markforged Mark Two (FDM)
...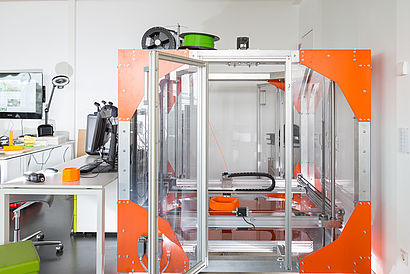 Additional Rapid Prototyping DevicesOpen areaClose area
2x ZING 6030 (40W, CO2) laser cutters
CNC Datron 3-axis, surface miller
Inventables CARVEY spindle moudler
Artec EVA & Spider 3D scanner
DAVID SLS-3 3D scanner
Roland CAMM-1 cutting plotter
T-shirt heat press
Soldering station, electrical components
10 workstations, 2 Wacom boards
A0 plotter, A3 laminator
Consumables availableOpen areaClose area
Acrylic glass (1-8 mm), various types
Plywood (1-3 mm), MDF (1-5 mm), cardboard
Adhesive, flex and flock film, various colours
Foam rubber, laser rubber, laminate
ABS / PLA filaments and special filaments
Workstation softwareOpen areaClose area
Adobe CS6
Arduino IDE
Autodesk Suite (Inventor) – available soon
Blender
Inkscape
Makerbot Desktop
Office 2016
Roland Cutstudio
Simplify3D
SolidWorks 2016
...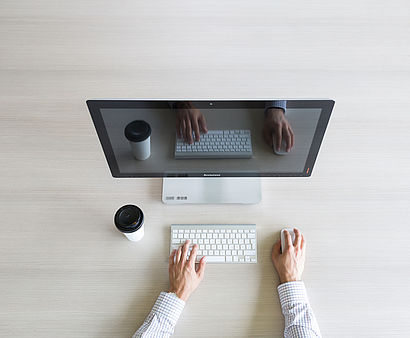 Prof. Dr. Dana Mietzner - Head of Research GroupOpen areaClose area
Dipl.-Geograph Markus Lahr - ViNN:Lab ManagerOpen areaClose area
Eva Ismer - ViNN:Lab & KiVi:Lab ManagerOpen areaClose area
Isabel Weidlich - KiVi:LabOpen areaClose area