E-Assessment
electronic selftests and examinations
E-assessments allow tests and examinations to be taken in a digital format. They can be contribute to your overall grade, or not. E-assessments may supplement other types of tests and examinations. For example, e-assessments may be used to check the understanding of fundamental topics, followed up by a calculation task done by hand, a presentation or written exam. The nature of the examination can be appropriately selected for each learning goal.
Written examinations are sat in the computer labs at a PC. Depending on how the questions are designed, they may be automatically marked.
Since they reduce the marking workload, e-tests are also ideal for use as homework tasks or short tests during the semester. This opens up a range of new possibilities for integrating online elements into teaching.

Please plan sufficient time for putting together your first e-assessment.
When selecting a format for an examination, please make sure you consult the specifications given in the module description, as well as the study and examination regulations.
Important: Please inform your students preferably at the beginning of the semester that the exam will be conducted electronically. Point them to our information page for students.
Scenarios for using e-assessmentsOpen areaClose area
E-assessments have huge potential to better support learning processes by creating learning opportunities. Based on this, examinations can also be carried out electronically. E-assessments serve the following purposes:
diagnostic: The aim is to determine the learning needs before beginning the learning process (e.g. orientation tests, entrance tests).
formative: The aim is to determine learning progress during the learning process (e.g. short tests during the semester).
summative: The aim is to evaluate learning success after the learning process (e.g. exams).
So that tests that count towards the final grade, and tests which do not, can have a positive effect on learning, they must be appropriately integrated into the course so that students are motivated to successfully complete the tests and make use of the results. For example,
tests could be systematically integrated into the timetable for the semester (e.g. self-assessment tasks after each teaching unit).
by informing students of the strong correlation between regularly working on test tasks and exam results.
by discussing the self-assessment tasks during tutorials.
Benefits of e-assessmentsOpen areaClose area
Benefits for teaching staff
E-assessments reduce workload using automated marking.
The use of e-assessments can also be advantageous even when not using automated marking, as the improved legibility makes marking easier.
New types of (multimedia) task can be used.
Self-assessments can integrate differentiated feedback. Recommendations for further study can be made based on the test results.
Tests conducted during the semester can be used by teaching staff to focus on particular topics.
Flexibility for designing exams.
Analysis of exam results allows teaching staff to make targeted improvements to the quality of the questions.
Benefits for students
Uniform and transparent evaluation.
Results are generally available very quickly.
New types of (multimedia) task can be used.
Self-assessments with differentiated feedback help determine where further study may be required.
Tests during the semester: Any weaknesses are made clear long before sitting the exam.
Quality assurance of e-assessmentsOpen areaClose area
TH Wildau places great value on quality assurance: Not only does this mean ensuring content that is error-free and technically correct, but also deals with the type of knowledge to be tested at the level of study and the selection of appropriate types of question. Many of the examination design principles apply to e-assessments equally as they do to conventional examinations. This includes:
A focus on competencies
Coherence between the desired learning result and examination format
Coherence between the teaching/learning format and examination format
Exam questions with a didactically meaningful structure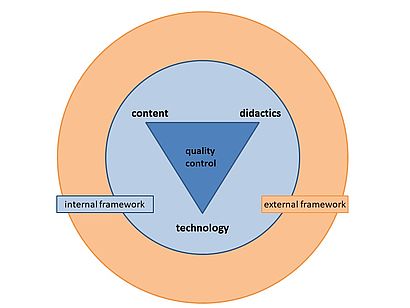 ~~~~~~~~~~~~~~~~~~~~~~~~~~~~~~~~~~~~~~~~~~~~~~
Please contact us via eassessment(at)th-wildau.de if you would like to take advantage of e-assessments or if you have questions regarding high quality questions.
~~~~~~~~~~~~~~~~~~~~~~~~~~~~~~~~~~~~~~~~~~~~~~

The content (including pictures) on this website and subpages are licensed under a Creative Commons Attribution-NonCommercial-ShareAlike 4.0 International License.

The author is responsible for the content of this website.
The E-Assessment-Service offers support
for using the e-assessment software,
for checking question prototypes,
for the modification of questions if required.
Your ELBen-Team:
Denis Edich (e-assessment/e-learning)
Dr. Xenia V. Jeremias (e-assessment)
Susanne Lutz (university didactics)
Christian Niemczik (e-learning)
Christian Rabe (e-assessment/e-learning)
Susann Schulz (university didactics)
Please contact us via: