Sustainable, Renewable Energy Systems Conference – SusRES'2021
April 6th, 2021
2nd German-West African Conference on Sustainable, Renewable Energy Systems SusRes – Kara 2021
April 6th 2021, University of Kara
"Decentralized systems as a key factor in clean energy production for locations with limited infrastructure"
Renewable energy systems have become indispensable for dealing with the worlds current climatic situation by reducing green house emissions and fossil fuel consumption, yet they also provide great alternatives for energy production in remote regions of the world. Every day newer and smarter solutions are being developed enabling for new technologies to arise. By addressing these trough research and education, new solutions can be expected for the current and future energy concerns. The SusRES Conference encourages the scientific and pedagogic knowledge exchange by providing a platform in which a proactive and environmentally concerned audience can share its ideas.
Prospective authors are invited to submit an abstract of their contribution, which will be reviewed within a double-blind review process. Once the paper is accepted, the authors are asked to rework their paper according to the reviews and submit the full paper or poster contribution before the final paper submission deadline. We particularly would also like to encourage under- and postgraduate students to submit papers to the conference, which will be considered for a student award.
Please submit your contribution
Addressed Topics
Hydrogen and Biomass Energy Generation
Renewable Energy
Machine Learning
Industry 4.0
Intelligent Automation & Robotics
Smart Grids
Predictive Analytics
Energy Efficiency
CPS & IOT(IIOT)
Important dates
11/1/21 Deadline for Abstracts
12/2/21 Notification of Acceptance
22/3/21 Full-Paper submission
Notes
The requested language of abstract and contribution is English

The abstract should not exceed 2 DINA4 pages

The duration of the presentation including discussion is 20 minutes

Abstracts of the contributions are submitted in electronic form through the ConfTool System.
Conference CommitteeOpen areaClose area
General Chair
Prof. Dr.-Ing. Jörg Reiff-Stephan
Department of Engineering and Natural Sciences
Technical University of Applied Sciences Wildau
Prof. Kou´santa AMOUZOU
Dean of the Faculty of Science and Technology
University of Kara
Associate Prof. Assiongbon ADANLETE
Faculty of Science and Technology
University of Kara
International Scientific CommitteeOpen areaClose area
Associate Prof. ADANLETE ADJANOH Assiongbon
Physical Properties of Materials, University of Kara, Togo
Prof. Dr. AMOUZOU Sabiba Kou ́santa
Biochemistry, University of Kara, Togo
Prof. Dr. BANNA Magolmeena
Heat and Mass Transfer, University of Lomé, Togo
Prof. Dr.-Ing. Bernd Büchau
Process Control and Industrial Communication Systems, TH Stralsund, Germany
Prof. Dr. Klaus Dreiner
Sustainable Wood Processing, HNEE, Germany
Prof. Dr.-Ing. Clemens Faller
Automation, Industrial IT and Smart Production, HS Bochum, Germany
Prof. Dr. Xiao Feng
Economics, Tongji University, China
Prof. Dr. Andreas Foitzik-Hintelmann
Microsystems Technology/ System Integration, TH Wildau, Germany
Prof. Dr. Christoph Gerhard
Physics/Instrumental Analysis, HAWK Göttingen, Germany
Prof. Dr. Lutz Giese
Renewable Energy Systems/Energy Management, TH Wildau, Germany
Prof. Dr. Frank Gillert
Smart Logistics, LNBB, Germany
Dr. HOVA Hoavo
Theorical physics, University of Kara, Togo
Dr. KATA N´detigma
Renewable Energies, University of Kara, Togo
Prof. Dr.-Ing. Thomas Knothe
Business Process and Factory Management, Fraunhofer IPK, Germany
Prof. Dr.-Ing. Stefan Kubica
Business Intelligence, TH Wildau, Germany
Prof. Dr.-Ing. Reinhard Langmann
Applied Internet Technologies, HS Düsseldorf (CCAD), Germany
Prof. Viktorio Malisa
Robotics and Applied Mechanics, F-AR, Austria
Prof. Dr. NAPO KOSSI
Materials and Renewable Energies, University of Lomé, Togo
Prof. Dr.-Ing. Karl-Heinz Niemann
Energy Management, HS Hannover, Germany
Prof. Dr. Felipe Andrès Hernandez Pentòn
Economics, UNISS, Cuba
Prof. Dr. Siegfried Rolle
Engineering Physics and Renewable Energies, TH Wildau, Germany
Associate Prof. SALAMI Adekunlé Akim
Electrical Engineering and Renewable Energies, University of Lomé, Togo
Prof. Dr.-Ing. Guido Sand
Modeling and Optimization of Complex Systems, HS Pforzheim, Germany
Prof. Dr.-Ing. Hasan Smajic
Automation, TH Köln, Germany
Prof. Dr. Alexander Stolpmann
Artificial Intelligence/Machine Vision, TH Wildau, Germany
Prof. Dr. Carsten Wittenberg
Human-Machine-Systems/Automation, HS Heilbronn, Germany
Organizing CommitteeOpen areaClose area
Sponsors and PartnersOpen areaClose area
Sponsors
DAAD - German Academic Exchange Service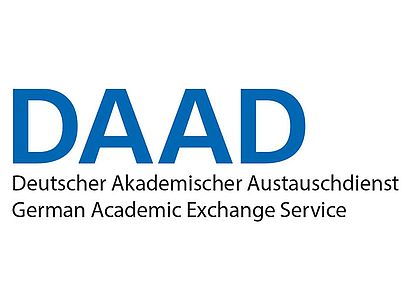 Submissions and PublicationsOpen areaClose area
Submission deadlines
Abstract Submission January 15th, 2021
Final paper submission March 22nd, 2021
Conference April 5th-6th, 2021
Templates for Paper Submission
For any question you might have, please email to: info@susres.net
Communication of acceptance for full paper on February 12th, 2021
All abstracts will be assessed in a review process

All authors with accepted abstract will be able to submit the corresponding full paper (or poster contribution) for publication in the conference proceedings. Reference is made to the deadlines for contributions!

Please note that full papers shall not exceed 10 pages in total

Poster contributions shall include one poster (A0 format), which must be printed and presented at the conference, and a summery which shall not exceed 4 pages in total

The conference proceedings will be published in a referenceable format by use of a ISBN number
General Criteria
Only original works that have not been published previously in any format (journals, web ...) or presented in previous conferences is allowed to be submitted.
The authors will be responsible to third parties for the originality and ownership of the work presented.
The Scientific Committee of the Conference reserves the right exclude papers from the conference proceedings that fail the plagiarism check.
All papers submitted must be in English.
Papers must be submitted through the ConfTool System. Papers submitted in a different way will not be accepted.
The organization of this Conference reserves the publication rights of the papers on the web or in the documentation provided during the conference.
Publishing agreement
The submitting author certifies that he/she is authorized by their co-authors to enter this agreement. They warrant on behalf of themselves and their co-authors that the contribution is original, has not been formally published in any other peer-reviewed publication, is not under consideration by any other journal, and does not infringe any existing copyright or any other third party rights. Furthermore, they certify that the contribution contains nothing that is unlawful, libellous, or which would, if published, constitute a breach of contract or of confidence or of commitment given to secrecy. With regard to third-party material, the submitting author confirms that all reproduction permissions for any previously published material were obtained. They also declare that the authors took due care to ensure the contribution´s integrity. The authors grant TIB Open Publishing (Technische Informationsbibliothek (TIB), Welfengarten 1B, 30167 Hannover, Germany) the right to publish the contribution and identify itself as the original publisher. TIB Open Publishing has the non-exclusive right to provide worldwide access, to provide long-term storage, and to distribute published content and metadata (including abstract and references) to Crossref for DOI registration as well as to various libraries, repositories, search engines, databases, and abstracting and indexing services. Metadata incl. abstract of the contribution are distributed under the conditions of the CC0 1.0 Universal (CC0 1.0) Public Domain Dedication (http://creativecommons.org/publicdomain/zero/1.0/). On behalf of themselves and all co-authors they and their co-authors they agree that the accepted contribution will be licensed under the Creative Commons Attribution License 4.0. (https://creativecommons.org/licenses/by/4.0/legalcode). The submitting author grants the conference organizer and TIB Open Publishing the permission to upload their contribution to the OJS system of TIB Open Publishing on their behalf and to create a respective author user account for them for this purpose.
Program - SusRES Time ScheduleOpen areaClose area
Please find the conference program here
Conference AwardsOpen areaClose area
Young Researcher AWARDS
The conference committee will select a winner for the best contribution who will receive a three-month scholarship to assist at the TH Wildau (including flight and accommodation). Eligible are participants who meet the following requirements:
Undergraduates of a bachelor, master or doctoral degree program
Originates from a West African country: Benin, Burkina Faso, Cameroon, Cabo Verde, Chad, Côte d'Ivoire, Equatorial Guinea, The Gambia, Ghana, Guinea, Guinea-Bissau, Liberia, Mali, Mauritania, Niger, Nigeria, Senegal, Sierra Leone, and Togo
The student must be the main author or corresponding author of the submission
Registration and FeesOpen areaClose area
Due to the corona pandamic, this years conference may be conducted as a web-conference.
Please note that all papers must be presented by one of the authors during the conference. The organizer reserved the right to exclude a paper from distribution after the conference if it is not presenetd at the conference. Authors attending the SusRES 2021 conference in Kara must register themselfs using our ConfTool.
The registration dates will be provided soon.
AccomodationOpen areaClose area
Please note that we will provide a shuttle service between the hotels and the University of Kara for all participants.
The follwoing hotels are recommended:
Hotel Berekia
Location: Route Nº1
Tel.: +228 90244257
Email: berekiahotel(at)gmail.com
Hotel Marie-Antoinette
Location: Shortly before the entrance of the city
Tel.: +228 90057313
Website: http://ma.kara-tg.com/
Email: hello42(at)gmail.com
Hotel ô KARA
Location: Downtown
Tel.: +228 26600516
Hotel La Douceur
Location: Downtown, Chaminade district, near the ASKO Municipal Stadium
Website: http://hotelladouceur.com/contact.php