Preparatory programme for refugees
The study preparation programme for refugees at TH Wildau's Welcome Centre gives refugees who are able to study the opportunity to acquire the necessary basics to enrol at a German university.
Welcome to Welcome Center for Refugees
Flyers in: German
The Welcome Center at the TH Wildau offers refugees who are interested in studying the opportunity to acquire the fundamental academic and linguistic skills necessary to undertake a degree programme in Germany.
As well as preparing students linguistically and academically, we also provide support and advice in matters relating to life at university to help students integrate into the university community and find solutions to a wide variety of issues they might encounter, both personal and academic.
If you decide to study a degree programme at the TH Wildau, we will continue to provide you with help and support throughout your studies and offer supplementary tuition in a range of different areas of study.
Our courses
Free language courses for refugees (ongoing, several courses throughout the year)
DSH Preparation Course B2 - DSH in the Language Center, certificate:DSH exam
DSH Preparation Course C1 - DSH in the Language Center, certificate:DSH exam
WFY mixed language and academic study preparation programme, certificate: DSH exam and academic access exam
additionally:
Optional tuition for DSH study preparation courses:
English, Mathematics, Information Technology
Workshops in:
Presentation techniques
Academic methods
Intercultural skills
The job market in Germany / starting your career
(these optional courses can also be taken alongside your studies)
Application
To apply, please complete and send us the application form, stating the course number for the course you are interested in.
Please send all other documents in PDF format.
Thank you.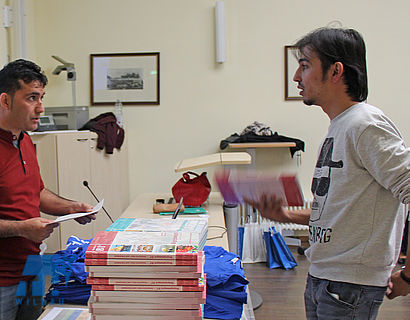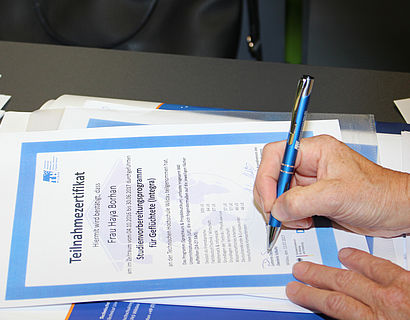 Support for refugees at the TH Wildau: Our Motivation
The increasing number of people fleeing war and destruction and coming here in search of refuge also presents new challenges for universities to tackle: In the long-term, structures and measures will need implementing to enable refugees to integrate into universities. Initiatives have already been launched by government ministries and other organisations (e.g. the HRK), as well as by universities, and the first proposals are being developed.
Alongside the urgently required structural and legal frameworks, humanitarian aid is needed across the country - and therefore also in our region - to help alleviate hardships, as is support for individuals throughout the integration process.
This is where the management of the Technical University of Applied Sciences Wildau comes in:
We see it as an urgent matter for us to take on a role of responsibility within society, which is set down in our university's mission. We wish to make it clear that we truly believe in and practice the two pillars of "internationality" and "tolerance", and want to make a clear statement that shows our ongoing commitment to treating each other with human dignity in all our interactions, characterised by altruism, tolerance and respect, regardless of skin colour, origin, religion, gender or language.
These fundamental beliefs motivate us, in the face of the current situation, to launch an initiative that brings together volunteers at the TH Wildau (both students and staff) to – as part of a larger regional network – establish specific and targeted offers of support for refugees, link up with others in the region and make this support available.
Study Preparation Courses
Course 1: WFY mixed language and academic study preparation programmeOpen areaClose area
If you are interested, please send us the following documents to welcome@th-wildau.de:
Cover letter
CV with photo
B1 certificate
Copy of your passport (residency permit)
Certified and approved German translation of your secondary education transcripts/certificates
if available, or other evidence including a certified translation
Current information:
Extension of the application deadline to 31/07/2020.
Attention!
All participants in Course 1 (WFY) are provisionally enrolled during the one-year course and have to pay semester fees of around € 310 per semester (2 semesters). You will receive a student ID card that includes a BVG ticket for the ABC area and can eat in the canteen at the student rate, as well as other discounts for students.
Course 2: DSH Preparation Course from B2 to C1 and DSH-ExamOpen areaClose area
Course 2 includes at least 24 SWS (semester credit hours)
If you are interested, please send us the following documents to welcome@th-wildau.de:
Cover letter
CV with photo
B1 certificate
Copy of your passport (residency permit)

Certified and recognized German translation of the Abitur which is recognized in Germany
Current information:
Application for this course is open from now on until 11/09/2020.