March 2022: Our new sustainability managerOpen areaClose area
Stefanie Martin started in the position of a sustainability manager at th wildau at the end of March 2022.
Contact:
Email: stefanie.martin(at)th-wildau.de
Phone: +493375508241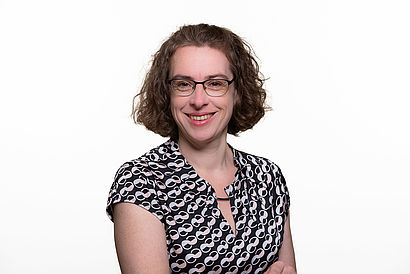 October 2021 First Systainability symposiumOpen areaClose area
On October 25, 2021, the first Symposium on Sustainability of the Wildau University of Applied Sciences took place.
After three keynotes by external experts, lecturers and employees of TH Wildau presented examples from the areas of teaching, transfer governance/operations and research.
Here you can find all contributions, mostly with slides and recording.
July 2021: Teaching and learning mission statementOpen areaClose area
Our new mission statement Teaching and Learning explicitly addresses sustainability:
We learn and teach sustainability.
We make our contribution to the necessary transformation of society.
We develop concepts and technologies for the responsible use of resources and for fair coexistence.
Teaching and learning mission statement
October 2020: Inventory of the sustainability working groupOpen areaClose area
As a basis for further action at TH Wildau, the Sustainability Working Group is conducting a university-wide survey. Completed and ongoing measures - which can be grouped into the broad field of sustainability - have been included:
Inventory: 1. GovernanceOpen areaClose area
1 University buildings / structural measures
Energy-saving lighting, motion detectors in corridors and toilets, information signs, waterless urinals, independent power circuits that can be switched off, combined heat and power plant, heat pumps and ground storage (House16), solar thermal systems for heating water at the new student dormitories, installation of photovoltaic systems (House 15; House 100),
Waste separation; waste avoidance, e.g. cloth towels in toilets; raising awareness of this issue, e.g. International Office teaches international students how to separate waste in Germany
Environmental monitoring with photonic sensors
1.2 Outdoor facilities
many green areas, rainwater infiltration on site, automatic sprinkling of green areas
1.3 Mobility
Promotion of car alternatives through bicycle-friendly infrastructure, company/semester ticket, promotion of carpooling
Operation of a GreenLab: an energy-saving office
Use solar in a variety of ways, e.g. solar trailers in WMW truck fleet or solar boat team.
1.4 Cafeteria
Environmentally friendly measures in the canteen/cafeteria, e.g. financial advantage for reusable cups, in HaSi paper packaging instead of plastic, handing out a lid/spoon only when needed, healthy food(also vegetarian and vegan)
1.5 Administration/processes
Conversion of administrative processes to digital solutions
Establishment of the Sustainability, Environmental and Climate Protection (NUK) working group in 2019.
Participatory development of a mission statement for teaching (2020)
Consolidation of control bodies for environmental management in the area of "Building Affairs, Technical Housekeeping and Operations Administration
Environment-related working and research groups (e.g. sO2lutions)
Preparation of the 2015 environmental report
Taken by Ole Peters
Inventory 2: TeachingOpen areaClose area
2.1 Teaching content
One of seven endowed professorships on the subject of cycling is located at the TH Wildau in the study program Traffic Systems Engineering. In this way, the Federal Ministry of Transport and Digital Infrastructure (BMVI) would like to give even greater consideration to the interests of cyclists in the future.
Further teaching content on ESD can be found in the following modules/projects/courses:
"Cooperation Management" in business administration and information systems
"Building Telematics I" with a focus on "Energy Efficiency in Buildings".
"Basics of Management" in EM
"Introduction to Political and Administrative Sciences" in ÖVBB
"Drive Technology"
Various projects in Automated Energy Systems
"Physical Technologies/Energy Systems"
Renewable energy systems in degree programs: B. Physical Technologies/Energy Systems, M. Mechanical Engineering, M. Automated Energy Systems
"European Economic Policies"
"Photonics"
"Sustainability in Logistics"
2.2 Collaboration and participation (Participation)
In addition to the usual stakeholders, the entire student body was able to participate in the development of a mission statement for teaching. In a Day of Teaching ONLY for students, which was realized for this purpose, it was possible to obtain their opinion in cooperation with the Student Council, which will be included in the further development of the guiding principles for teaching.
2.3 Transformative teaching-learning environments
The transformation of teaching-learning environments required for sustainable development education (ESD) is supported, for example, by inter- and transdisciplinary formats.
2.4 Development of a Module on Interdisciplinary Project Work (IPA)
The reform projects currently underway in both departments offer a unique opportunity to think together about interdisciplinary concepts across courses of study and to integrate them into the new curricula. Furthermore, the digital learning factory "Wildauer Maschinen Werke" (WMW) provides an interdisciplinary platform with application-oriented examples that has been implemented bottom-up so far.
The core element is an interdisciplinary module that includes interdisciplinary aspects such as technology assessment, ethics in digitization, sustainability or meeting culture/techniques.
2.5 Lifelong learning
The topic of "Lifelong Learning" is supported, among other things, by regular events in the Children's University and Senior Seminar formats (see also Transfer).
2.6 Further offers to students to support their empowerment as change agents
Solar boat SuncaTcHer / Chasing the Sun - The project for students
Solar boat regatta
Roof Garden "ViNN:Lab Greenspace"- Urban Gardening and Community Supported Agriculture (CSA) are also reflected as broad socio-cultural trends in the Maker Movement.
Taken by Susanne Lutz
Inventory 3: ResearchOpen areaClose area
Sustainability in research is very much extrinsically triggered, because research programs often address consistency strategies. In research proposals, sustainability must often be addressed, which usually means that the efficiency (of a device, a process, etc.) is addressed.
Accordingly, researchers at TH Wildau are involved in research programs in the field of energy on a case-by-case basis. Outstanding in terms of consistency strategies is the department of Regenerative Energy Technology, which researches a broad spectrum from sustainable energy generation to storage/control to consumers (e.g. light sources). In Bioprocess Engineering, this is complemented by Algal Biotechnology, which studies algae as energy and suppliers of valuable natural products.
In physical engineering, the topic of sustainability is touched on rather selectively. Several projects deal with energy-efficient components (CMOS chips, sensors), energy efficiency in processes (production of turbines and plain bearings) or the development of components for environmental monitoring (nitrate sensor, water monitoring, pollutants in the atmosphere).
In the department of Molecular Biotechnology there is the thematic pillar "Environment" in which topics such as the reduction of methane emissions from landfills and pollutant monitoring in building materials and in soil are researched. Various sustainability aspects (factory farming, organic farming and "fair" trade) are also worked on as part of projects in the Food/Agriculture thematic pillar. The department has a representative for environmental protection and sustainability who is to exert influence internally, but also on the industry partners.
Taken by Marcus Frohme/Lars Radke
Inventory 4: TransferOpen areaClose area
As public institutions, universities are increasingly confronted with demands from society to make contributions to the common good. Politicians expect such contributions from universities in teaching, research and third mission and stipulate them in university contracts. Such activities can be understood as transfer of higher education institutions. This is understood as the mutual and cooperative exchange of knowledge, ideas, services, technologies and experiences between higher education institutions and external actors from business, politics, the public sector, culture and civil society on an equal footing. Transfer creates added value for the partners involved and for society. When it comes to transfer of higher education institutions for sustainable development - in short: sustainability transfer - an explicit positioning of the activities and actors for sustainability is required. The goal of sustainability transfer is a contribution to sustainable development in society. (from project HOCH N)
"TH Wildau bases the present strategy on a broad understanding of transfer. Transfer is understood as the mutual interactions between the university and its environment. This understanding of transfer is in line with the Third Mission, which universities pursue in addition to research and teaching. This means transfer is more than just technology transfer, and not only companies, but also institutions, e.g. associations, public institutions and non-profit organizations, as well as the public at large, can be partners in KTT. Nevertheless, technology transfer has a prominent importance for TH Wildau as a technical university." (From the knowledge and technology transfer strategy of the TH Wildau, status 05/2017)
Methods for a sustainability transfer
4.1 Public events/series of events:
Children's University
Senior seminar
Annual science week with popular science events
Medical Sunday lectures
Nawitex student labs: PhystecLAb: workshops for students in the fields of renewable energies such as PV, wind, hydrogen
Events of the Wildau Network - Artificial Intelligence (WinKI)
4.2 Collaboration between research and practice through
Student projects
Interdisciplinary project work (WMW)
R&D inquiries/problems of the practice partners are worked on e.g. in theses and the results flow back to the practice partners.
R&D projects between TH Wildau and companies
4.3 Presentation of the potentials of the university:
Transfer passport
Transfer profiles
InnoRadar
4.4 In addition, exchange with stakeholders (companies/research institutions/general society) takes place with
Conference contributions
popular science publications
scientific publications
as well as through the
offices of the TH Wildau in the regional growth centers (Luckenwalde, Finsterwalde, Fürstenwalde).
Taken by Annette Vossel/ Anne Hirsch
2015: First environment reportOpen areaClose area
The student group sO2lutions publishes the first environmental report of TH Wildau for the years 2013/2014.
Environment report (german)